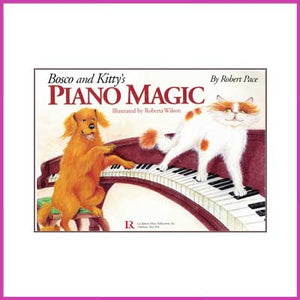 Bosco and Kitty's Piano Magic - Read-Aloud Story w/CD
By Robert Pace
Level: Pre K, Early Elementary, 
Classroom, Studio, or Home
Save 20% 
Different though they are, Bosco and Kitty love creating musical stories for each other.
By playing the piano's "twins and triplets"—the sets of two and three black keys used by many styles of music the world over—Bosco and Kitty imagine countless musical adventures.

Through these, Bosco, Kitty, and young followers of their story also encounter many important musical ideas:
They learn how music can be "high or low, soft or loud, slow or fast, or combined in various ways," as Dr. Robert Pace explains.

These concepts provide a base of musical understanding young beginners can build on as they continue learning and enjoying music.





Pages: 24 Full Color Pages
CD: Music & Narration

Publisher: Lee Roberts Music Publications

---
We Also Recommend