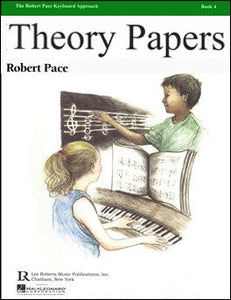 Theory Papers - Book 4
THEORY & ANALYSIS
Level: 4
By Robert Pace
Theory Papers develops the student's ability to analyze musical patterns, structures, and relationships. Through developing skill in musical analysis, students gain the means to "figure out" how to play and create new music long after formal lessons conclude.
Short written and performing activities throughout THEORY PAPERS are structured so that students encounter new ideas as they are also reviewing and assimilating previously learned material. 
Students learn to identify, write, play, and compose with:
Augmented, major, minor and diminished triads in all keys

Triad inversions

Seventh chords

Chord progressions with secondary dominant sevenths that prepare students for modulation

Quartal • Bi-tonal • Bi-chordal • Blues, and • Twelve-tone systems.
Various exercises also guide students in analyzing elements of each musical selection in MUSIC FOR PIANO.
Books correlate page-by-page
Pages: 48
---
We Also Recommend